SVC All-Stars Retain NYSCL Independence Cup
By Frederick Halley
July 2, 2019
SVC All-Stars made it two in a row with a resounding 71-run victory over New York Softball Cricket League (NYSCL), the same opponents they defeated in last year's Independence Cup final, when the NYSCL annual tournament climaxed at Baisley Pond Park, Queens, New York on Sunday.
The well-oiled SVC All Stars unit, who played unbeaten in the competitive three-day tournament, reserved their best performance for the final after receiving a scare from upstarts Unruly in Saturday's semi-final played at the same venue.
Led by consistent scores from their top-order batsmen, SVC All-Stars reached a respectable 159 for eight in their allotted 20 overs after losing experienced campaigners Chien Gittens (two) and Andrew Gonsalves (nine) with 38 on the board in the sixth over. They also lost opener Richard Latiff (20) at 45 for three before Surujpaul Deosarran (13) went caught by skipper Eon Ellis as SVC All Stars slipped to 63 for four in 10.5 overs.
Patrick Rooplall and V.J Surujpaul, however, averted further inroads with a fine fifth-wicket partnership of 65 in just under seven overs with the former hitting 26 off 29 balls, which contained three fours and a six while Surujpaul's top-score of 39 off just 20 balls was spiced with three fours and two sixes.
Surujpaul's bold innings ended in the 18th over, bowled by the persistent Murph Seeram while Rooplall, who came in at number five, departed in the final over, caught by Murphy Ramnath off Dane Glasgow.
Teenager Nishal Dhaniram, who caused the early damage, ended with two for 29 from his four overs while Seeram, who got rid of Gonsalves and Surujpaul, claimed two for 27. Glasgow also got into the act with two for 31.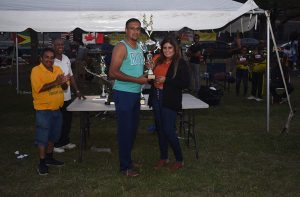 Latiff caused an early scare in the NYSCL reply, shattering the stumps of Wasim Aslim (six) in the third over but two run-outs, that of opener Amar Singh (31) and number three batsman Zamal Khan (12) at 58 and 64, in consecutive overs (ninth and 10th) put a damper in NYSCL's chase.
It was a steady procession thereafter, with skipper Bobby Prahalad, who surprisingly came on as the fifth bowler, wreaking havoc, as the middle- and lower-order succumbed to his searing pace.
Prahalad finished with the impressive figures of four for nine from just two overs, shattering the stumps of Seeram (0) and Dhaniram with his 11th and 12th deliveries, as NYSCL folded in 15 overs. He had earlier sent back Raja Parsram (one) and Ellis (one). Latiff took two for 16 from his four overs.
SVC All-Stars' Latiff was adjudged the Most Valuable Player (MVP) in the tournament, tallying 81 runs and capturing eight wickets while he also copped the man-of-the-match in the final. NYSCL's Rohit Dutchin made the most runs (171) with a top score of 120 versus Schenectady. He received three awards in the process.
Nishal Dhaniram claimed the most wickets (16) and also took six for 31 against Schenectady, the best figures in the Open category while his NYSCL teammate Zamal Khan, a former Guyana Under-19 batsman, was rewarded for his century (109) versus Unruly.
At the presentation ceremony, NYSCL president Eric Ferrier thanked all the teams for their participation also commending the umpires for a fine job. Ferrier also reserved special praise for the several sponsors and the many volunteers who made the annual three-day activities possible.